There is no lens I love more than my Sigma 35mm 1.4 ART.  If I had to choose one lens to live with for the rest of my life, it would undoubtedly be my Sigma 35mm 1.4.  Unfortunately, now and again this lens starts to miss focus.  This is a lament I hear frequently around the photography community.  Further, many 35mm lovers like me enjoy shooting with the lens wide open, so a slight discrepancy in how the lens is focusing can result in images that are significantly different from what you intended.
Fortunately, Sigma offers a USB Calibration Doc to help you fine tune the focus of your lens.  Priced at around $65, the USB calibration doc is relatively inexpensive (especially in comparison to what you pay for the lens itself!), and all it takes it a little set-up and a few tweaks to get your focus exactly where you want it.
After purchasing the calibration doc, the first thing you will want to do is download the Sigma Optimization Pro calibration software to your computer (click HERE for the link to the software).  Once you have done that, simply follow the steps below and your focus will be as tack-sharp as ever!
Step 1:  Set Up Your Test Scene
It is helpful to pick an object with a relatively easy focus point and set it up in high contrast light with very little noise.  You will want to make sure there were no light issues distracting from the way the lens is focusing.  Once you have that set up, place a tape measure alongside the object starting about 2 feet behind the object and extending at least 4 feet in front of it.
Step 2: Take 4 Test Photos
In taking the test photos you will want to open your lens pretty wide.  By creating a very shallow depth of field you can really zero in one how accurate the focus is.   This is key for those of us who like shooting f/2.8 or wider.  You will then take a test photo at less than 1 foot from the subject, another at 2 feet, then at 6 feet and one beyond 6 feet.  After taking each photo, using the tape measure as a guide, review the results to see what part of the image is the sharpest.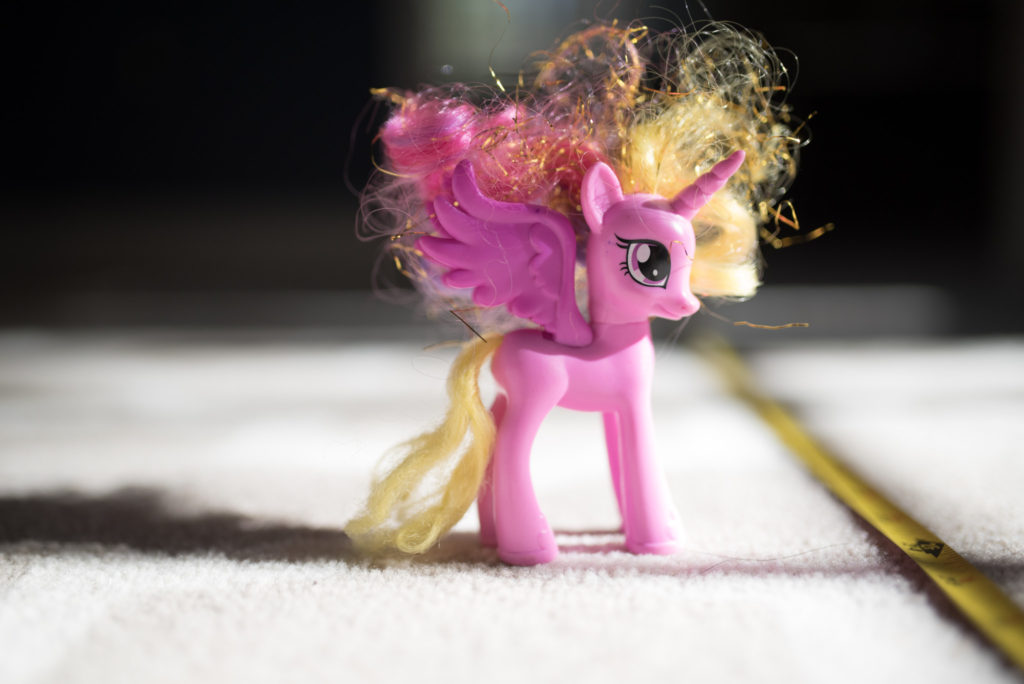 Step 3: Connect Your Lens To Your Computer
Once you have taken your test photos connect your lens to the computer using the Sigma USB calibration dock.
Step 4: Check The Firmware
Click on "Firmware Update" so that the software can check to see if you lens needs updating.  Most often the answer will be no.  After that click on "Customization."
Step 5: Review Your Test Photos & Make Adjustments
After clicking on "Customization", click on "Focus Setting"
This will bring you to the screen at which you fine tune your focus point at varying distances.  To do this, you will want to review each of the images you took as test shots and note if you lens is front or back focusing at any of the distances.
For example, the image above was taken at a distance of 2 feet.  When I reviewed it I noticed that the tape measure 1 inch in front of the subject was slightly more in focus than the eye of the pony.
I was much further off when I took an image at a distance of 8 feet.  This is the issue I could really notice when using my camera that prompted me to run the calibration software.  When reviewing it, I noticed that the area several inches in front of the pony was the most in focus. (Please note on this one, that I had a previous adjustment of +12 already on the firmware, so when making adjustments I was working from a starting point of +12 so I bumped it back to a +7)
Type your adjustments into the screen below and click "Rewriting".
Step 6: Retake Your 4 Test Photos
You will now want to re-take your test photos from the same exact positions to ensure you focus is spot on.  After re-taking your test shots repeat Step 5.  It may take several tries to get it just right so go a little at a time until you know your focus is right where you want it.
And that's it!  I usually go through this process every few months, or before a very important photo shoot, to ensure my lens is at optimal performance when I have it opened wide.
The Sigma 35mm 1.4 ART is a gorgeous lens – so fast and sharp.  All it takes is a little tweaking now and then and this lens will continue to be the workhorse you want it to be.